Trucking news and briefs for Thursday, March 23, 2023:
Trucking groups launch new Clean Freight Coalition
A group of trucking industry stakeholders on Thursday announced the launch of the Clean Freight Coalition, which aims to promote future cleaner truck transportation in a way that assures affordable and reliable freight movement.
The five founding members of the coalition are the American Trucking Associations, Truckload Carriers Association, National Tank Truck Carriers, Truck & Engine Manufacturers Association, and the American Truck Dealers group.
Jim Mullen, former acting administrator at the Federal Motor Carrier Safety Administration, will serve as CFC's executive director. Mullen has also previously served as chief administrative and legal officer at autonomous truck developer TuSimple.
"Trucking is the backbone of our economy and critical to the nation's supply chain," Mullen said. "It is an honor to lead CFC in its pursuit to get to zero emissions in a responsible and feasible manner."
The coalition said its mission is to:
Educate policymakers on the progress the trucking industry has made in reducing emissions and protecting the environment
Promote the work underway to reduce greenhouse gas emissions from freight transportation
Advocate for sound public policies that transition toward a zero-emission future in a manner that assures affordable and reliable freight transportation and protects the nation's supply chain
"To get to zero, we have to be honest and transparent about the road ahead," said ATA President and CEO Chris Spear. "Success depends on a national energy strategy that is inclusive of our industry."
[Related: Senators seek to overturn recent EPA rule on heavy-duty truck emissions]
Trail King updates side, bottom dump material hauling trailers
Trail King recently announced updates to two of its most popular material hauling trailers -- its Steel Side Dump and Bottom Dump trailers.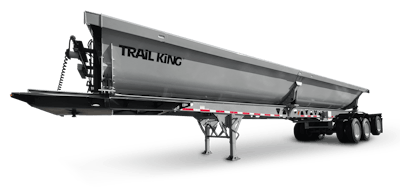 Trail King added an additional center tub pivot to the Steel Side Dump to provide a smoother dumping process and increased stability with no wheel hop at the end of the dump cycle while maintaining a dump angle of 41 degrees. Additionally, the new tub geometry "drastically increases tub-to-truck clearance when dumping," the company said, while improving cycle stability and better rear-view visibility.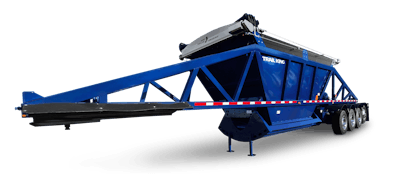 Trail King said continuous hopper slopes in the bottom dump trailer with a 54-by-99-inch hopper opening deliver complete dumping and reduces areas of material buildup. Sloped top rail allows material to shed, reducing areas of buildup and less corrosion. The one-piece unitized hopper and frame design ensure superior cleanout.
Trucker Path launches new bundle aimed at small fleets
Trucker Path this week launched a new, more cost-effective bundle of products for small- to mid-sized fleets it's calling the Essentials bundle.
Included in the package are truck-safe navigation and routing, ELD, load board and direct-to-app dispatching solutions.
"Our new Essentials package includes everything a small- to mid-sized carrier needs to efficiently and effectively grow their business," said Chris Oliver, CMO at Trucker Path. "Not only does Essentials save our customers 35% compared to the cost of buying individual products, it also provides an advantage when it comes to support and coordination, and seamless interoperability from a single provider."
Essentials from Trucker Path includes:
ELD: Powered by Geotab for keeping drivers compliant and safe (includes electronic DVIR capabilities)
Load board: TruckLoads, offering unlimited access to search, bid and book loads
Dispatch portal: Integrated software to dispatch loads directly to the drivers' Trucker Path app
Truck-safe routing and navigation: Trucker Path's truck mapping and navigation service
Carriers using other brands of ELDs to meet regulatory requirements can also take advantage of the Essentials bundle from Trucker Path without its ELD offering, the company said.
[Related: Transportation Management System platforms: Not just for large fleets]
Driver named Highway Angel for helping driver of overturned truck
Jason Escobar, a truck driver out of Palestine, Texas, has been named a Highway Angel by the Truckload Carriers Association for stopping to help the driver of an overturned sand truck that was leaking gas and oil. Escobar drives for Maverick Transportation out of North Little Rock, Arkansas.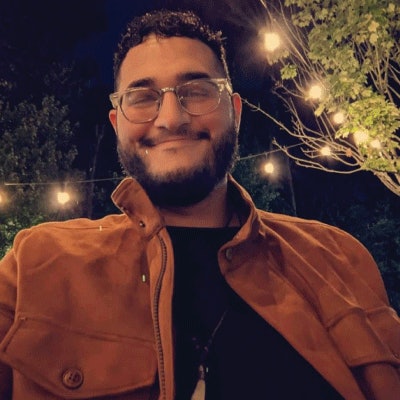 On March 3 around 10 a.m., Escobar was traveling on Highway 3132 in Shreveport, Louisiana, when he witnessed a sand truck overturn in front of him.
"He was top heavy; he ended up losing control of the truck and he flipped it over," said Escobar, who has been a truck driver for almost seven years.
He quickly stopped and ran to the other driver's aid, climbing on the truck to assist the other driver out while the truck was leaking gas and oil. All lanes on the highway were blocked due to the sand in the road.
Escobar went on to help fire and rescue personnel shovel sand, and to help another trucker that got stuck and hit a guardrail. His efforts resulted in unclogging the traffic jam that had appeared as a result of the accident.
"My mindset has always been that if, God forbid, something ever happens to me, I would hope that the person behind me would be kind enough to reach out and lend a hand -- we're all just human beings," he said.