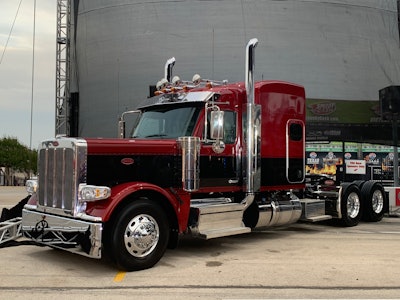 Peterbilt is retiring its Model 389, a truck that has carried the torch for the glory days of trucking for 17 years. The Model 389 replaced 379 in 2006 with redesigned headlamps fenders and trim, and the 379 itself replaced the venerable 359 in the late 1980s.
The Model 589 at the beginning of next year will pick up the mantle for a series of truck that has carved out a niche as a premium throwback popular with owner-operators; eye-catching work trucks; with regional small fleets; and as reward trucks for big fleets. Peterbilt has produced 110,000 Model 389s since its 2007 model year debut.
[Related: Test drive of the Peterbilt Model 589]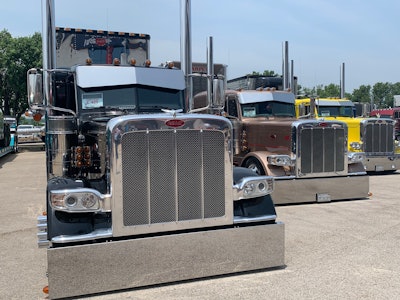 Peterbilt Tuesday night sent its Model 389 off in style, officially introducing the Model 589 at a customer, dealer and media event that, fittingly, included a Pride & Class truck show with 200-plus entrants at Texas Motor Speedway.
The 589 gets Peterbilt's newer 2.1 meter cab, a roughly 8-inch bump in leg and elbow room from the 1.9 meter cab of the outgoing Model 389, but it maintains practically every other element important to the old school series: the large 15-inch external air cleaner cans; pod headlights; the aluminum crown and stainless rectangular mesh grille; lightweight huck-bolted aluminum hood; bicycle-style fenders; and dual, chrome, functional 7-inch exhaust stacks.
Designers – who started working on the 589 project in early 2013 – did sneak in a few updates, but they are subtle and unlikely to ruffle the feathers of classic Pete purists.
"Every step of the way, [design] concepts were scrutinized to make sure they looked like a traditional Peterbilt," Peterbilt General Manager Jason Skoog said, speaking to a crowd of several thousand on the track's infield and noting that Tuesday's unveiling was the culmination of "thousands of hours (of work) put in by hundreds of people."
The West Coast-style mirrors are heated and motorized with a flat glass that is 2 inches taller for better visibility; all the bumper options from the 389 are carried over to 589 but now include LED running lights; and on the roof you'll find a V-style visor rather than a rounded one, and bullet-style marker lights across the top that are twice as bright as the legacy ones. The 589 also becomes the first truck in its lineage to offer the Bendix Wingman Fusion suite of safety system technologies.
The standard powertrain is Paccar's MX-13 engine and TX-12 automated manual transmission, the same as what's available on the Model 389, and it is matched to a Paccar DX40 rear tandem. A Paccar TX-18 automated manual is also available, as are Eaton's Endurant HD and XD models and Allison options for vocational customers. A 15-liter Cummins and manual transmission are also available – a combination that is spec'd on the majority of 389s that roll out of Peterbilt's Denton, Texas, assembly plant.
Peterbilt will also make available a Special Edition Legendary Package Model 589, which features special design and trim accents throughout, highlighting the company's 84 year history, including vintage script Peterbilt logo and spears on the hood, polished fenders and bright rockers, and stitching on the seats. Skoog said Peterbilt originally intended to make the Legendary Package available just for the initial launch of 589 but elected to extend it into the foreseeable future, adding he believes the Legendary model would likely emerge as the spec of choice for most customers and outsell the standard Model 589.
The first 589 Model 589s, regardless of spec, to roll off the assembly line will be numbered sequentially from 1 to 589 and will receive a special numbered plate inside.