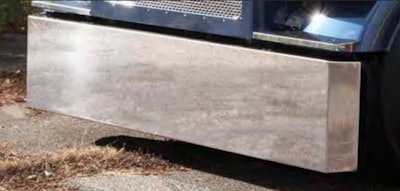 RoadWorks Manufacturing offers classic-style stainless steel bumpers with a variety of options for a variety of truck makes and models. The bumpers are available for Freightliner FL, Classic and COE models; Peterbilt 359, 379, 388, 389 and 567 models; Kenworth W900L and W900B tractors; International 9900I and 9900IX models; and Western Star 4900 trucks.
Depending on truck model, bumpers are available in 16-inch, 18-inch, 20-inch and 22-inch heights in both standard and blind mount. Additional options include tow holes, box or mitered ends, tapered bottoms, side cut radius to match tire profile, recessed license plate holder, back lighting and more.
A brochure for the bumpers can be found here.