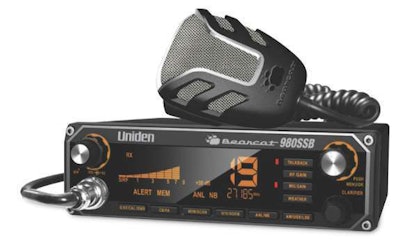 Many drivers rely on their CB radio to keep them up to date on any trouble spots and Uniden's Bearcat 980 SSB CB radio has several features that can help do just that.
What sets it apart are several additions that are normally seen in much bigger and more expensive models. Most notable are a new noise-cancelling microphone to clear out highway and other background noise, seven choices of backlighting, large display panel and a feature that allows instant switching to emergency channel 9.
This radio got a four and half stars rating from Amazon shoppers, and 85 percent gave it four or five stars.
Other features of the Bearcat 980 SSB include:
40 channel AM operation
Dynamic squelch control
Four-position mic gain control
Extra long mic cord
Instant channel 9/19
CB/PA switch
Large digital S/RF/SWR meter
Seven color display options
Variable talk back
Day/Night dimmer switch
Radio diagnostics
Uniden also offers the Pro401 HH, a professional level handheld CB with 40 channels. It has four watts of power, rechargeable batteries, auto noise cancel and high/low power selection. Accessories include belt clip and strap, flexible antenna and DC adapter.
Both are available at travel plazas and online.