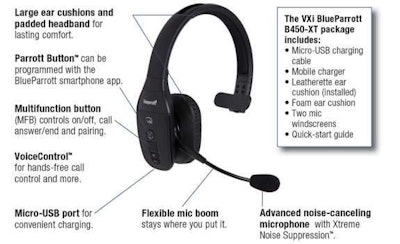 The VXi BlueParrot B450-XT is designed to deliver clear conversations, with a 96 percent noise-canceling microphone. The new headset also gives truckers up to 300 feet of Class 1 Bluetooth range, and more than 24 hours of talk time per charge.
One of the B450-XT's key features is its customizable Parrot Button. Teamed with the BlueParrot app, this button can be set to perform a number of functions, like mute, speed dial and push-to-talk.
The B450-XT also adds new features, including VoiceControl speech recognition technology, for hands-free control of headset functions, and voice memo recording. Near-field communication provides the B450-XT with one-touch pairing, when used with an NFC-capable device, while Bluetooth 4.0 conserves battery life, and A2DP support enables music and GPS streaming.
The BlueParrot B450-XT has an MSRP of $149.99 and is available at selected travel center locations.