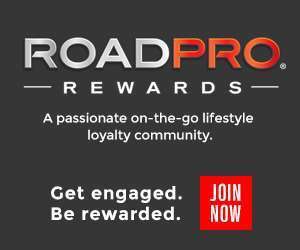 RoadPro Rewards, a new lifestyle loyalty community, is designed to give drivers a chance to be rewarded for engaging with RoadPro's on-the-go brands.
The RoadPro Rewards community of drivers will receive a combination of fun and education through lifestyle-relevant content. Members will earn points for brand engagement, including select purchases of products from RoadKing, Wilson, MobileSpec, PowerDrive and more. Members can redeem those points for lifestyle rewards, such as digital entertainment, gift cards, charitable donations, apparel and hats, and participate in auctions for various prizes.
Earning points by engaging with brands is as simple as watching a video, interacting through social media and otherwise consuming content. To take advantage of special product offers, members can upload the qualifying receipt via smartphone, and within 24-48 hours, the appropriate points will be deposited into their account.
"RoadPro Family of Brands is about the lifestyle of truckers," said Charles White, vice president of brands and marketing for RoadPro Family of Brands. "RoadPro Rewards will give drivers a chance to join a community that will fuel their passion, empower them with knowledge and enrich their on-the-go lifestyle. We want drivers to be rewarded for engaging with and learning more about the products, brands and services that are important to their safety, connectedness, comfort and overall productivity while on the road."