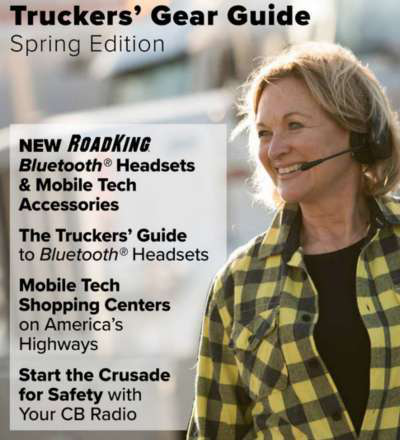 Think back to a time not so long ago when finding an open pay phone at a truck stop was as important — and sometimes as difficult — as finding a place to park.
Even the most ardent of "old school" truckers will not miss those times. (Face it, you couldn't take a selfie with a pay phone!)
Today, in-truck mobile technology is making life on the road more comfortable, safer and more efficient. The Spring Gear Guide is filled with such products, including and especially Bluetooth headsets, as well as the newest CB radios, GPS units designed for truckers and power banks to ensure all your technology stays charged.
The spring edition of the guide also includes the results of a recent survey of truckers' opinions on mobile technology. The highlights show:
50 percent of truckers purchase their mobile technology online while 30 percent shop for it at travel centers
87 percent said brand name is the most important feature when shopping for headsets
42 percent said noise cancellation was the most important feature when buying a Bluetooth headset; 23 percent said range was most important, while 9 percent said comfort
The Spring Gear Guide also includes a detailed look at some of the highest rated Bluetooth headsets on the market. Looked at are different models' noise cancellation ability, comfort, range, battery life and price. The guide also takes a close look at two new headsets from RoadKing.
Insights from two professional drivers — Henry Albert and Tom Kyrk — are highlights of the guide. Albert talks about the importance of using a CB radio for safety's sake and Kyrk offers his take on headsets.
So, if you are considering upgrading your gear, replacing something outdate or broken, the Spring Gear Guide is required reading.