As a truck driver, you have more than your fair share of things to worry about as you head down the road. Aside from your truck's mechanical wellbeing and the ticking of the clock, there are dozens — no, hundreds — of other drivers on the highway with you who have no idea what all you have on your mind.
So, the last thing you need is not being able to communicate with those who are counting on you. Working in a hands-free environment all day, every day requires a headset that is comfortable, easy to use and makes you heard and allows you to hear well.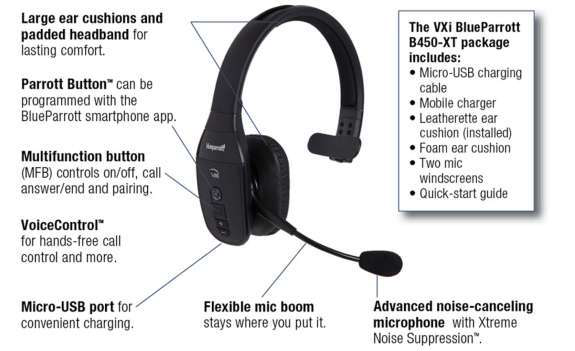 Blue Parrott has two Bluetooth headsets — the B450-XT and the B250-XT — that keep you not just connected, but comfortable in the process.
The two models are similar in most respects. Both deliver excellent sound quality, superior noise cancellation, hands-free operation, long battery life and superior comfort. The differences are modest.
The B450-XT uses HD Voice and and a noise-cancelling microphone to eliminate 96 percent of ambient noise. The B250-XT cuts out 95 percent of the background noise.
The large ear cushions mean you can wear either headset in comfort for your entire drive.
One difference between the two headsets is battery life, and it's modest. The B450-XT has 24 hours of talk time and 500 hours on standby. The B250-XT is rated at 16 hours of talk and 150 hours of standby. Both feature USB charging.
The other differences between the two:
Bluetooth range is 300 feet for the B450-XT and 66 feet for the B250-XT

B450-XT uses Bluetooth version 4.0 compared to the B250-XT's 2.1+EDR

Weight of the B450XT is 5.22 ounces compared to the B250XT's 2.52 ounces    
The only other difference is pricing. The MSRP for the B450-XT is $149.99, compared to $99.99 for the B250-XT. However, sharp-eyed shoppers will find either for considerably less with only a little looking.
Both are available at travel centers.