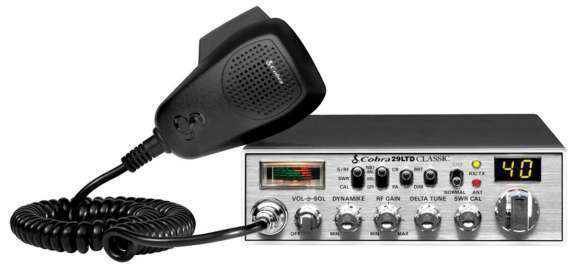 Some things are classics, they set the standard by which others of their kind are judged.
Such is the case of the Cobra 29 LTD CB radio. It has been around for 50 years, and is the essential CB for most professional drivers. It maintains the classic design of some of the first CBs to enter the cabs of trucks.
The 29 LTD has been changed and improved over the years mostly on the suggestions of drivers who have depended on it while on the road.
Today's version features:
Full 40 channels

Instant access to the emergency channel 9

The maximum power output of four watts

Antenna warning light that illuminates when the antenna needs checking

SR calibration that helps reach maximum performance

Four-pint mount microphone connection

RF gain

Switchable automatic noise limiter and noise Blanker

Adjustable Dynamike boost

Front panel microphone connection

Delta tune

Tactile controls

PA capabilities
Available online and in travel centers.