The Hamilton Beach 33461 Stay or Go 6-Quart Portable Slow Cooker is like a lot of the trucks on the highway today.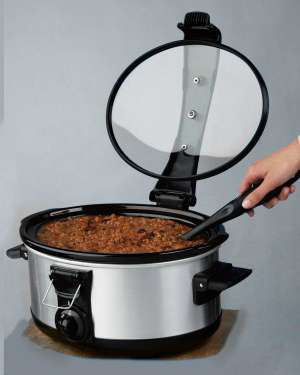 While there are many with plenty more whistles and bells, this model gets the job done and is ideal for the sometimes particular job of in-cab cooking.
The six-quart Stay Or Go model from Hamilton Beach has plenty of capacity, features easy-to-use analog controls (High, low and warm settings) and has a hinged, attached lid that locks down and stays in place. Call us old school, but we like the no-nonsense approach of this slow-cooker. Call us cheap because we also like the price: $27.16.  
Here's a sweet little bonus item: Proctor Silex 1.5-quart portable slow-cooker. We like this because it's small. This might just fill the bill if you're only cooking for yourself or space in your truck's kitchen is limited. And, at $19.49 it's affordable. Keep in mind, though, that this is a pretty basic appliance. Still, it will do the job you need.