At a time of growing enforcement emphasis on distracted driving and the use of hands-free devices, one electronics company today introduced a totally voice-controlled headset.
BlueParrott introduced the B550-XT at the Great American Trucking Show in Dallas in August, saying the new headset is "the world's first 100 percent voice-controlled over-the-head headset to be IP54 rated." The Bluetooth headset provides access to Google Assistant and Siri for all controls.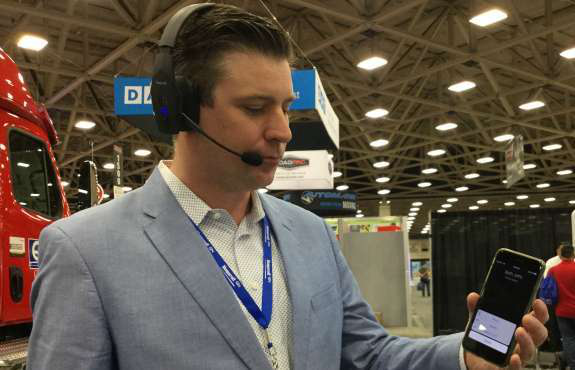 "This is a really exciting introduction for us," said Dave Jaques, director of project management for BlueParrot. "As we've moved through time, we've been continuing to add features that are really important to the driver, and ultimately make their use of our products easier and easier. Whether that is things like hands-free operation that allow you to answer an incoming call by just using your voice, or simple things like NFC, which is a feature that allows the product to pair. We've started blending in these newer technologies as they become available on the market."
BlueParrott's new wireless headset features Voice Control Pro, to control calls, access voice assistants, and control apps, music and GPS directions. All a driver has to say is "Hello BlueParrott," to make use of these and other features of the B550-XT.
It also boasts 24 hours of talk time, 500 hours of standby and 96 percent cancellation of background noise. It also lets you wander up to 300 feet from Class 1 paired Bluetooth devices. Its customizable Parrott Button provides one-touch access to favorite features.
"This product is the most comfortable over-the-head headset that we've ever designed," said Jaques. The cushion size itself has increased over 10 percent. We've worked a lot on the ergonomics, both in the headband itself, and the bar that goes on the opposite side is, is significantly softer."
That means, said Jaques, drivers can wear the headset all the time they are driving without discomfort.
The B550-XT will be available for $199.99 in early October in select North American travel centers and online at http://www.blueparrott.com.