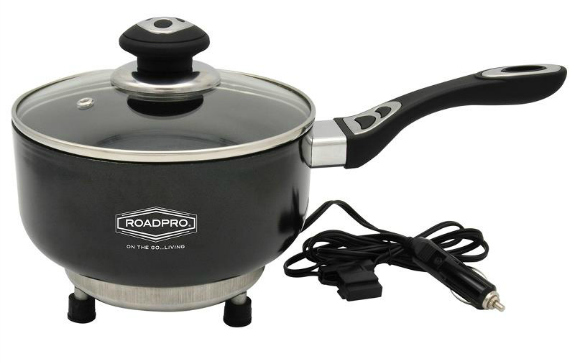 With a non-stick surface the RoadPro 12-volt, portable saucepan is the onboard cook's "go to" pan for making or heating soups, stews, chili, steaming vegetables and cooking hot dogs.
Paired it with the RoadPro frying pan and you have just about all you need to prepare anything shy of a holiday feast.
The 2-quart saucepan has a stay-cool handle, vented tempered glass lid, and non-slip feet. It has a 4 and a half foot power cord with an in-line fused plug and 20 amp replaceable blade fuse. Plugged into a 12-volt power port, it draws 12 amps/165 watts.
Like other RoadPro appliances, the 12-volt saucepan is available at most travel stops.