There was a time when the CB radio and the truck stop payphone were how drivers communicated on the road and stayed in touch with dispatch and home. 
My how things have changed. Payphones have all but vanished and the smartphone is the trusted partner of most every trucker.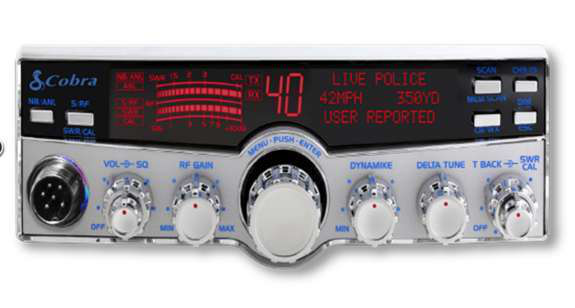 Still, the CB remains a fixture in most tractor-trailers on the road today for a variety of reasons. And, like the smartphone, today's CB is loaded with features that make it more valuable than ever.
Such is the case of Cobra's 29 LX MAX, which actually leverages the power of your smartphone. The 29 LX MAX syncs your smartphone calls with the CB radio. Incoming audio is routed through the radio's speaker making it easy for you to hear who is calling with audible caller ID. The system provides one-touch technology for hands-free safety.
The Cobra's iRadar app integration allows the user to receive and report police calls, road hazards, and red light camera intersections from a linked community of users.
The 29 LX MAX adds one other patented feature. Called Rewind-Say-Again, the feature provides the driver with the ability to replay the last 10 seconds of signals received over the airwaves and record a 10-second personal memo that can be replayed back at any time. 
 A noise-canceling microphone allows calls to be heard, even over your truck's engine and other road sounds. 
Built on Cobra's popular 29 LTD Classic chassis, the 29 LX MAX features:
Legal hands-free phone calls and text messaging. You can make and receive phone calls with the CB, and make calls and send text messages using just your voice

Caller ID with voice and number display announcement of incoming calls

Selectable, 4-color LCD display in easy-to-read display in green, blue, amber and red
Available online and at travel centers.
See more of the latest products in the current Trucker's Gear Guide.