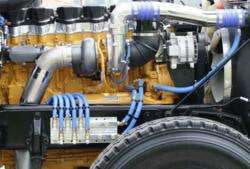 The Kustom Truck Coolant Distribution Manifold is a centralized coolant distribution location available in either a three- or five-port circuit.
The water manifold routes heater hoses through one centralized location and allows for cleaning up the engine compartment by having only one main supply and one main return line. It also utilizes shutoff valves at the manifold for each circuit being ran so the valve simply can shut off the leaking circuit in the event of a coolant leak.
The base model is a three-circuit manifold that allows three individual coolant circuits, while the upgraded model allows for up to five circuits.
The manifold is sold as a kit that includes the manifold, shutoff valves, hose barb fittings, elbows and plugs, and is not chassis-specific. It can be used in medium- or heavy-duty applications.