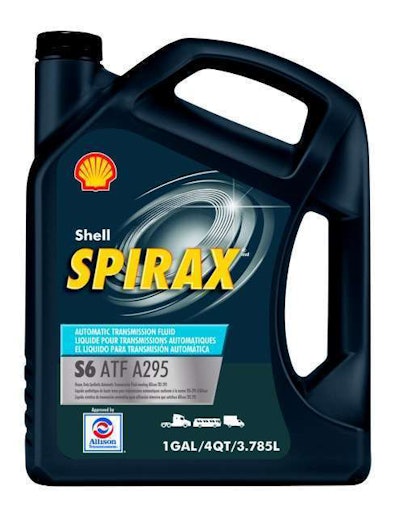 Working closely with Allison Transmission, Shell Lubricants has developed the new Spirax S6 ATF A295 synthetic automatic transmission fluid, ideal for use in trucks, buses, motor homes, vocational vehicles, dump trucks, refuse trucks, concrete trucks, off-road haulers and emergency vehicles. In formulating the product to meet Allison's stringent TES-295 spec for extended warranties and drain intervals (up to 300,000 miles, or 150,000 under severe conditions), Shell subjected the new lubricant to a battery of performance tests.
Stede Granger, Shell Lubricants' OEM technical manager, briefed media on the product at the Billboard Touring Conference and Awards in New York City Nov. 8, describing this Spirax ATF as "more than just a lubricant. It is also a key component of the transmission."
Tests included in-lab work to prove shear stability, said Granger, also 2,200 hours of severe "high power 'shift busy'" load… "We took on of their biggest on-road automatic transmissions and ran the temperature high – very high – driven by a Cummins M11 engine."
With the testing and resultant certification, said Dennis Breedlove, Allison director of aftermarket programs, "users can be assured of superior performance and lower cost of ownership versus conventional fluids."
It's available in drums, pails and gallon jugs, and will deliver:
Exceptional wear protection and resistance to viscosity and thermal breakdown
Superior friction characteristics
Excellent low-temperature capability
The fluid will improve reliability in older Allison transmissions work well in units requiring old Dextron III-spec fluid, Granger noted. The lubricant also functions with Allison Prognostics – Allison's maintenance reminder system.