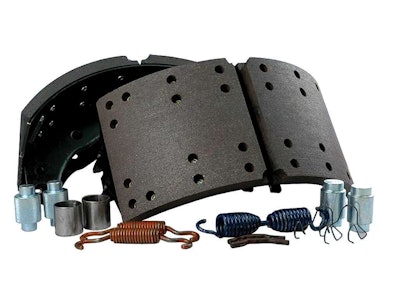 TRP now offers brake linings for both 20,000- and 23,000-pound applications. Single brake shoes and kits are available in 15-by-4-inch and 16½-by-7-inch sizes for both tractors and trailers. The shoes are coined in a 1,000-ton press to facilitate accurate installation and performance; each shoe also undergoes extensive surface preparation to facilitate paint coating adhesion while preventing rust-jacking damage. Each grade is engineered and formulated to provide consistent braking performance and long lining life for specific applications.
In the 20,000-pound gross axle weight rating range, TRP offers three grades of friction material for single and tandem axles. Premium-grade friction material is engineered to handle high braking-duty cycles encountered in city pickup-and-delivery applications or where steep grades are present. Standard-grade material is suited for on-highway, dry-freight, intermodal leasing and straight truck applications. Line-haul or mid-grade material is suited for medium-duty, on-highway trailers, straight trucks and tractors.
In the 23,000-pound GAWR, premium-grade friction material is suited for high-duty cycles and mountainous terrains, while standard-grade friction material is suited for on-highway trailers and tractors. TRP also offers 23,000-pound severe-service-grade friction designed to meet the demands of high-heat high-duty-cycle applications such as refuse, dump, mixer, tanker bus and off-road applications; it is engineered to provide maximum lining life and stopping power and minimal fade.
For more information, visit www.trpparts.com.