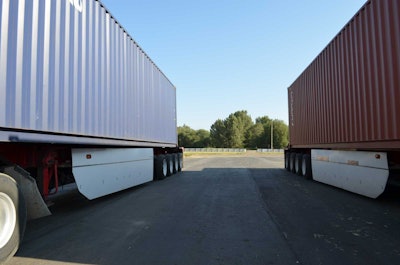 Freight Wing's chassis side skirts for 46-foot intermodal trailers are clamped onto the I-beams below where the intermodal box rests to keep the two-piece skirts intact and free from damage during loading. The flexible skirts also are hinged to the trailer via fiberglass rods to allow them to bend and flex when bottoming out at loading docks.
Two construction options are available: Freight Wing's original Dense Matrix Polyethylene with a plastic construction to provide a "bounce-back" nature, and a composite material with a low coefficient of thermal expansion, allowing the skirts to hold their flat-panel shape for a clean mirrored look.
For more information, visit www.freightwing.com.