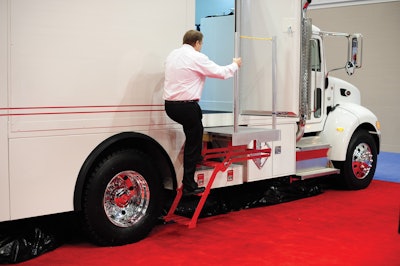 Bustin's Slide & Go Space Saver Platform is a compact platform and step system that can be mounted on existing equipment on most truck bodies, including flatbed trailers, vocational trucks and recreational vehicles. The platform is designed to enable drivers to cube out the truck and then down-stack the product for delivery; it is engineered to operate in tight alleyways or locations with cramped or limited space.
The platform measures 28 inches deep by 36 inches wide and is suited for side-door access and trucks with limited undermount space; height varies from 8 inches for the platform only to 19 inches for the platform with Bustin's retractable Slide-Away Step installed. The platform is rated with a 600-pound load capacity, and the step is rated for 350 pounds.
The platform features a single-hand latch release and can be opened and locked in place in seconds; an active locking mechanism keeps the platform secure during use. Additional safety features include serrated slip-resistant grating and a handrail option; storage for safety posts and chains also is available.
For more information, visit www.romcorp.com.