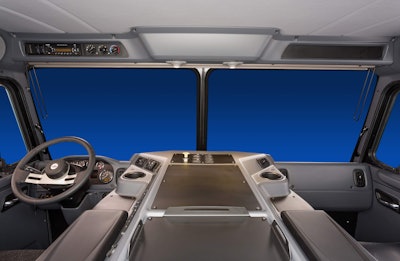 Peterbilt's Model 320 interior now features a floor-to-ceiling redesign. The new instrumentation panel includes LED backlit gauges designed for easy visibility through the steering wheel, along with the Driver Information Display and rocker switches engineered to be within easy reach.
An in-mold process embeds color directly into the dash for a durable long-lasting finish, helping to eliminate fading, scratching and peeling; removable dash panels allow easier access to electrical and HVAC components. The header includes overhead HVAC controls and toggle switches for body devices and the ConcertClass audio system.
The cab's B-pillar has been redesigned to include cab corner windows for increased visibility; a lowered dash brow and a large retractable sunshade that spreads the length of the front windshield also contributes to improved overall visibility.
Storage space is expanded with multiple large storage compartments, a space designed for a small lunch cooler and driver and passenger side cup holders. The ProBilt interior, available in Titanium Gray, also features LED lighting, a USB charging port and a 12VDC charging outlet.
For more information, visit www.peterbilt.com.