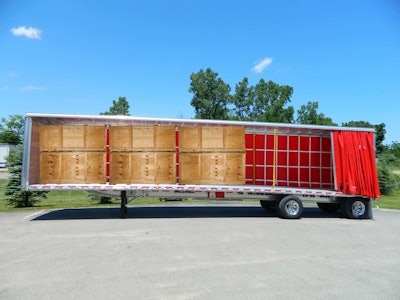 East's narrow-neck all-aluminum flatbed trailer has been combined with Sliding Systems Inc.'s all-aluminum Curtainside unit to facilitate lighter weight to haul freight heavy enough for a flatbed with the load capacity and enclosure of a van. The 8-inch neck is engineered to offer the same durability, strength and payload of the company's BST Aluminum model.
The van configuration has a 106-inch clear height – 4 inches short of a van – and 101-inch inside load width and can accommodate a concentrated load of up to 50,000 pounds in 4 feet on a 48-feet spread axle trailer, while the flexibility of the curtain side offers load access from both sides as well as the rear door.
The SSI Curtainside uses the Versa rail all-aluminum one-piece extrusion designed to impede sag when all roof supports are out of the way for loading. Curtains are constructed with a 26½-ounce PVC-coated polyester Mehler fabric reinforced horizontally and vertically with heat-sealable webbing made of high-tenacity polyester yarn with a PVC coating for abrasion resistance and welding ability to help provide added strength.
The Curtainside Quick Closer, a one-piece aluminum extrusion wall and wing, is mounted at all four corners of the unit and snaps to open and close. For more information, visit www.eastmfg.com.