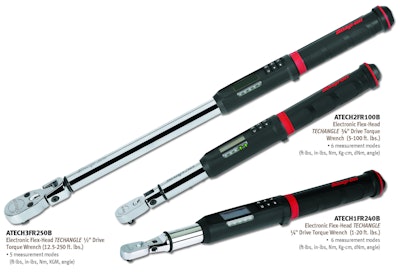 Snap-on TechAngle Torque Wrenches are designed for tightening fasteners to exacting torque and angle standards faster and more accurately than traditional mechanical torque wrenches with angle gauges, even under demanding conditions.
Available in three sizes – 1/4-inch drive (ATECH1FR240B), 3/8-inch drive (ATECH2FR100B) and 1/2-inch drive (ATECH3FR250B) – the wrenches offer four ways to detect torque (LCD, LED, audible and vibratory) to accommodate a variety of shop environments.
Snap-On also offers electronic torque wrenches designed to improve accuracy in torque application. For more information, visit www.snapon.com.
– See more at: https://www.ccjdigital.com/business/product/14928481/snap-on-touts-torque-wrenches