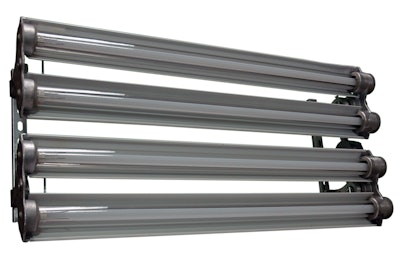 Larson Electronics' explosion-proof 4-foot 4-lamp LED light fixture is approved for paint spray booths and designed to provide improved output and durability for areas where flammable petrochemical vapors and pulverized dust exist.
The lightweight fixture has a slim profile and uses the company's LED T series 24-watt lamps that produce 15 percent more foot candles than the previous T8 configuration and are rated at 50,000 hours of service life. The fixture is multivoltage-capable and works on 120, 220, 240 and 277 volts AC.
The lamp's solid-state design and integral spring-loaded end sockets help provided added resistance to damage from vibrations and extreme temperatures. The L-bracket mounts can be adjusted to create angle mounts, and a single through bolt can be used to secure the light.
Larson also offers Magnalight's LEDT8-28W-V1 28-watt T-series LED tube lamp suited for upgrading existing T8 fluorescent lamp fixtures to LEDs as well as being a direct replacement for the company's own LED light fixtures. For more information, visit www.magnalight.com.
– See more at: https://www.ccjdigital.com/business/product/14928731/larson-spotlights-led-light-fixture