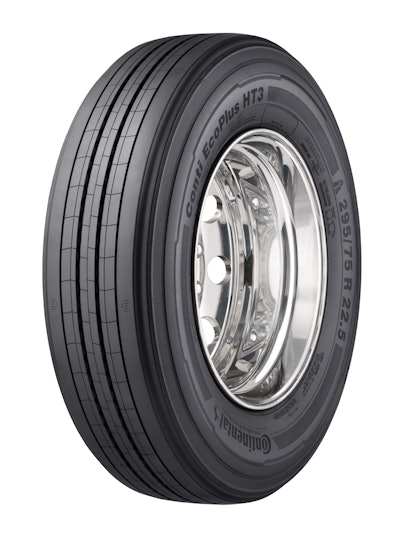 Continental Truck Tires designed its Conti EcoPlus HT3 trailer tire for the trailing axle to help provide greater fuel efficiency, long service life and retreadability.
A fuel-efficient tread design features four longitudinal grooves and a reduced void area. The pyramid-shaped triangular bars in the base of the tread grooves help stabilize the tire against flexing in the tread, while its closed ribs and continuous shoulder help provide optimal straight line tracking, add stability and prevent distortion while providing a wider contact surface area for better rolling resistance.
The tire's tread compound also is optimized for rolling resistance in a two-layer construction, while the company's proprietary Fuel Saving Edge relocates the rubber away from belt edges, where it's most susceptible to hysteresis and heat buildup, and moves it to the center ribs where it's needed for longer mileage.
Conti EcoPlus HT3 now is available in sizes 11R22.5, 11R24.5, 285/75R24.5 and 295/75R22.5, load range G and in 255/75R22.5 load range H, with additional sizes and a matching ContiTread retread product set for release later this year. For more details on retreads, click here. For more Continental Truck Tires information, visit www.continental-truck.com.