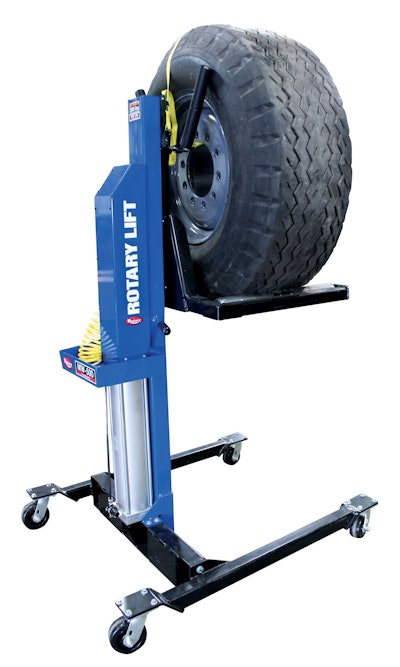 Rotary Lift's MW-500 Mobile Wheel Lift is designed for removing and positioning any size wheel or tire weighing up to 500 pounds. The MW-500's arms feature rollers built to allow the wheel to be rotated 360 degrees when aligning it with the hub; the arms are mounted on an offset column to help provide unobstructed access to the lug nuts.
The wheel lift, capable of holding dually wheels, is powered by air and has a rise time of six seconds; it comes equipped with an air hose and features an additional air tool connection on the column, which also includes a parts tray. A single lever is used to raise and lower the wheel lift, while needle valves allow for adjusting raising and lowering speeds and a pressure regulator helps prevent overloading. The device rolls on four casters.
Rotary Lift also offers an AR18 four-post alignment lift. For more information, visit www.rotarylift.com.