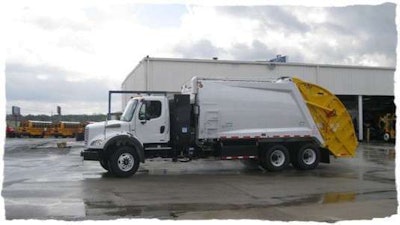 Freightliner Trucks announced that the Allison Transmissions output retarder is now available as an option for M2 112 Natural Gas refuse trucks spec'd with Allison 3000 and 4000 series RDS transmissions.
Integrated with the Cummins Westport ISL G natural gas engine and part of the transmission, the output retarder is designed to provide seamless secondary vehicle braking, ultimately reducing pad deterioration and enhancing the lifespan of the refuse truck's service brakes. The retarder can be configured with a switch on the dash, allowing the driver to control braking power.
"Stop-and-go applications such as refuse can be tough on trucks, and brakes in particular can experience a lot of wear-and-tear, resulting in downtime," said Mary Aufdemberg, director of product marketing for Freightliner Trucks. "Options such as the Allison output retarder can help keep trucks out of the shop and on the road, at work."
The Freightliner M2 112 Natural Gas garbage truck is suited for noise-sensitive environments such as residential neighborhoods. The truck is designed with a tight turn radius and added visibility and driver safety and comfort features.