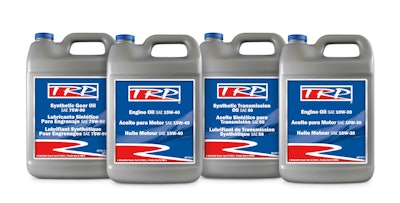 TRP's lineup of lubricants for all makes of trucks and buses includes TRP Engine Oil, TRP Synthetic Transmission Oil and TRP Synthetic Gear Oil. Formulated to guard against wear and corrosion in demanding applications, the products are designed to help protect axle components, transmissions and engines for longer life and smoother operation across a wide range of operating conditions.
• TRP Engine Oil is suited for mixed fleets and is formulated to protect today's four-stroke diesel and gasoline engines and keep older engine models running smoothly. Made to combat the sludge, varnish and ash deposits that can occur at high operating temperatures, TRP Engine Oil also helps protect against oxidation, corrosion and rust. It also is designed to help protect diesel particulate filters.
• TRP Synthetic Transmission Oil is formulated for all-climate year-round protection of heavy-duty manual transmissions and has a high viscosity index and low pour point to help facilitate easy shifting in low temperatures. Its formulation also helps protect against gear wear and copper corrosion while providing thermal and oxidation stability.
• TRP Synthetic Gear Oil is a multigrade gear lubricant recommended as a rear axle and differential oil in over-the-road and off-road vehicles and also is designed to help reduce operating temperatures.
TRP Parts, www.trptruckandtrailerparts.com