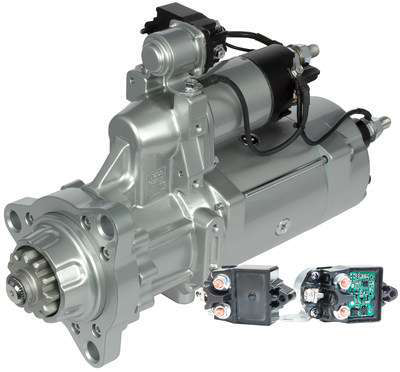 Debuting in the Delco Remy 39MT heavy-duty starter, BorgWarner's new Smart Integrated Magnetic Switch protects the starter from six damaging system failures, provides drop-in replacement and offers a more robust warranty than conventional starters. (PRNewsfoto/BorgWarner)BorgWarner's aftermarket Smart Integrated Magnetic Switch is suited for Class 6-8 on-highway trucks for integration with the company's 39MT heavy-duty starter. Six functions are designed to improve the starter's durability and reliability by protecting it from potential damage caused by system or operator error:
• In case of click-no-crank, an engagement monitor automatically retries the starter to avoid overheating the solenoid;
• Rapid re-engagement lockout helps prevent damage to the pinion and ring gear;
• Running engine lockout helps avert failures from engagement with a running engine;
• Low-voltage lockout helps avoid overcranking and solenoid chatter;
• Time-limited crank also helps prevent overcranking; and
• Auto-disengage at engine start helps avoid extended overruns.
BorgWarner, www.borgwarner.com