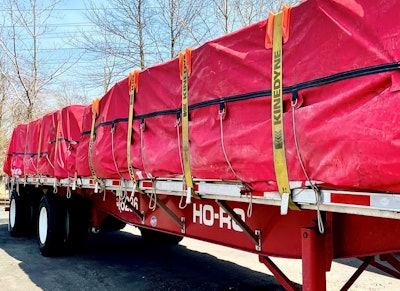 New reflective cargo corner protector VeeBoards from Kinedyne increase safety by illuminating cargo strapped on an open-deck trailer, helping the trailer and load to be seen day or night.
These bright orange reflectors need no batteries but emit a strong glow from the reflected light of oncoming traffic.
VeeBoards also help protect valuable cargo from damage caused by overtightening winch and ratchet straps and protect load securement straps from sharp edges on cement, steel and wood, to help extend strap life.
The heat-resistant corner protectors are effective in a wide range of temperatures and operating environments. The reflective 11-inch VeeBoards feature a stackable design that lets them sit atop each other to easily be secured when not in use. 
VeeBoards are designed for loads such as shingles, windows, doors, drywall, and foam insulation that are prone to damage from load securement straps and other tie-down assemblies. The corner protectors are engineered to spread the load of a winch or ratchet strap over a wider area, eliminating pressure points which can mar or damage cargo.