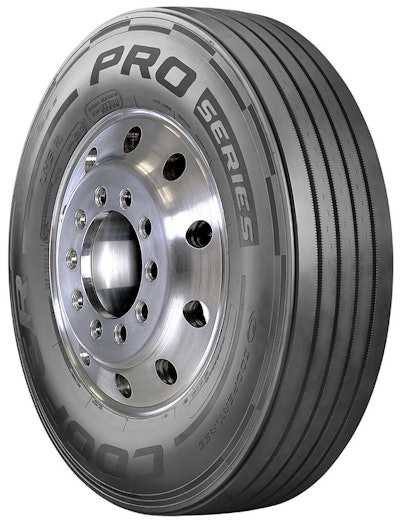 Cooper Tire has launched its new PRO Series Long Haul Steer 2 tire to help drive down tire costs for fleets.
The tire replaces its predecessor, the Cooper PRO Series Long Haul Steer tire, and is available now in size 295/75R22.5 (load range G and H), with additional sizes becoming available in October. 
The Cooper PRO Series Long Haul Steer 2 tire builds upon the foundation of its predecessor and features a patent pending shoulder decoupling rib. This provides added toughness on the edge of the tire to minimize irregular wear and damage caused by curbing.
One of the most fuel-efficient steer tires on the market, the new tire features Cooper's ECO (Energy Conservation Optimization) technology, which combines tire design, compounding and construction to provide an ultra-low rolling resistance tire that exceeds SmartWay standard requirements by 15%. It also offers lower rolling resistance than EPA greenhouse gas (GHG) standards set for 2027.
The Cooper PRO Series Long Haul Steer 2 tire also provides 18/32nds of tread depth and features a wide footprint. This helps distribute weight more efficiently and promotes long and even wear, as well as enhanced traction.