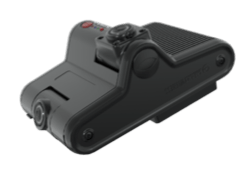 Video telematics manufacturer SmartWitness is set to release what it says is a first in the dashcam industry – a a road-facing camera with an optional one-inch by one-inch snap-on driver-facing module.
The company says the optional driver-facing module will allow fleets to add driver-facing video at any time without the time and expense of adding a separate camera or replacing the entire system.
The new camera – the SmartWitness KP2 – provides an easy upgrade path for fleets that want front-view video documentation in the event of an accident but are not yet ready to record driver behavior inside the cab.
The camera also features a choice of real-time advanced driver assistance system collision avoidance and driver monitoring features to help avert accidents, along with AI event analysis to reduce false alerts with SmartWitness' Artificial Intelligence Driving Events (AIDE) software.