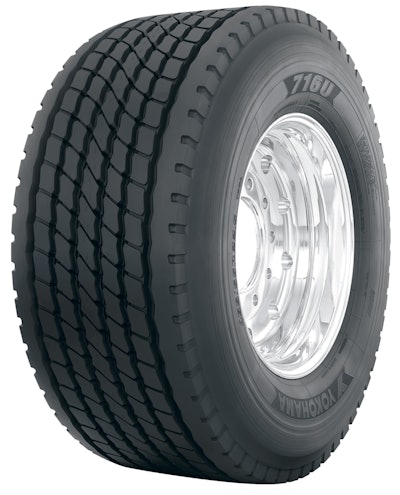 Yokohama Tire's newest commercial offering -- the 716U ultra wide-base -- is available now in the U.S. in size 455/55R225.
"The 716U UWB is designed specifically for waste, recycle and on/off-road severe service operations where maximizing payload capacity really counts," said Tom Clauer, Yokohama's senior manager of commercial product planning. "With its reliable all-season traction and durable construction, it really is the perfect drive tire for the job." 
Yokohama says the 716U UWB features:
Increased payload capacity with a load range M (22 PR). The replacement of traditional duals with Yokohama's four UWB tires reduces unsprung weight without compromising total carrying capacity, allowing for a larger payload per trip.
Aggressive traction with powerful zig-zag grooves that enhance traction and wet-weather grip by efficiently evacuating water away from the tread. 
An advanced compound resists scrubbing, cutting and chipping for long, original tread life. Plus, a zero-degree belt adds stability for a consistent stable footprint and long, even wear.
The funnel-shaped step grooves prevent stones and debris from reaching the bottom of the groove where casing damage occurs, and a durable casing with an extra-thick sidewall resists damage from potholes and curbing, and allows for increased retreadability.