Contrary to popular belief, the smartphone has not totally replaced the CB radio as the "go-to" device for on-the-road communications for professional drivers. Channel 19 – the truckers' channel – is alive and well, as many truckers say they still rely on the CB in their cab to keep them connected to other drivers, especially during foul weather or when there's traffic congestion or accidents.
Because of this, there remains a wide selection of radios and accessories available to truckers, including one that marries the CB with the smartphone. And, there's a CB likely to fit your budget. There are many for under $100 and some that come close to $400.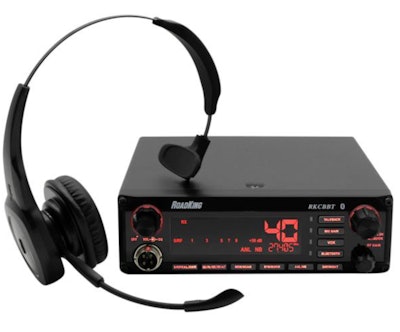 Hands-free communication is the rule of the road these days. This ground-breaking CB provides a seamless transition between the CB radio, smartphone, and Bluetooth headset with one touch.
Pushing the multi-function button on the headset allows the user to switch between a conversation on the CB radio and an incoming phone call and talk hands-free.
RoadKing's Hands-Free CB is ready to go right out of the box. It includes a RoadKing noise-canceling Bluetooth headset, which is already paired to the radio, a dynamic 4-pin handheld CB microphone, and an optional push-to-talk button. This industry-first CB radio system also features a seven-color display, NOAA weather alerts, PA function, and talkback.
Available online and at most travel centers for around $200.
For a moderately priced CB, the Uniden Bearcat 980 is loaded with the kind of features truckers expect and need.
It features a large digital S/RF/ SWR meter that lets you check your levels with a glance. It also has seven different backlighting schemes, so you can adjust them to your personal preference and daylight/nighttime conditions. The 40-channel Bearcat 980 CB Radio is equipped with: an integrated SWR meter to perfect antenna matching noise canceling mic RF gain control NOAA weather alert ANL/noise blanking automatic noise limiter 40 channels
The Bearcat 980 can also be paired with Uniden's BC906W wireless microphone. Available online or in travel centers and truck stops.
Uniden also makes the Beartacker 885, which pairs a full-featured CB with a police/re/ambulance/DOT scanner that delivers emergency warning alerts. Just be aware that not all states allow the use of such scanners in vehicles. Available online for $399.
Other makers of CBs suitable for truckers include Galaxy, Cobra, President Electronics, and Luiton.
Microphones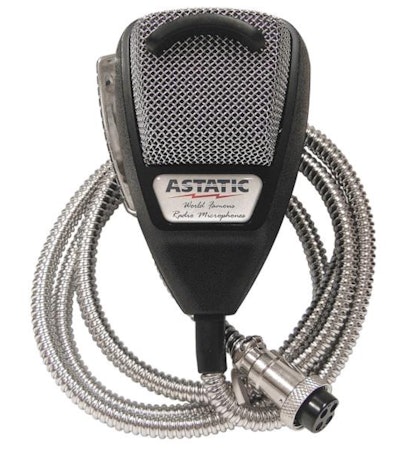 Most CBs come with a microphone as part of the package. Most are dynamic mics with standard four-pin connectors. Better quality mics – like the 636LB1 from Astatic or RoadKing's RK56CHSS – will include noise cancelation, something that is important to blocking out highway noise while on the road, as well as upgraded cords and housings.
Finding a replacement mic needn't bust your budget. Good ones range from $30 to $70.
Antennas
Key to the performance of your truck's CB radio and its true usefulness is that piece of equipment that connects it to the outside world: your antenna.
There are four styles of antennas suitable for Class 8 trucks:

Center-load CB antenna, also known as the "trucker" antenna. A center-load antenna consists of a stiff metal shaft on the bottom with a plastic-coated coil of wire in the middle and a thin whip on top of that. A fiberglass antenna is a pole wrapped in copper wire and then coated with a protective material. They come in a variety of lengths and are favored as they can be mounted just about anywhere on your truck. The magnet-mounted antenna is small compared to other antennas and is easily mounted. It consists of a magnetic base topped with the coiled wire and a small whip. This is favored for its ease of installation.
102" whip antennas are seen on many tractor-trailers. They require no coil and are simply a long, flexible wire that can be lowered when not in use.
RoadPro offers a variety of sizes and styles of CB antennas from several different makers, including Francis, Wilson, Solarcon, K40, TruckSpec, and its own selection of antennas and accessories. Check them out on RoadPro's website.
CB ACCESSORIES
There are a variety of accessories to make sure you get the most out of your CB.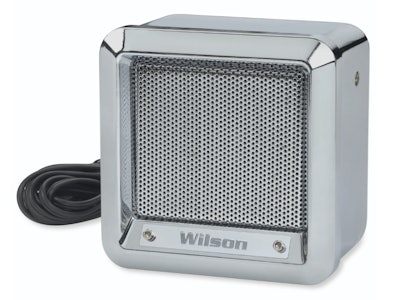 To be sure you take maximum advantage of what comes across your CB, it can help to add an external speaker, like this one from Wilson. Made of heavy-duty 22 gauge steel, this rugged add-on speaker comes in black or chrome. It includes a mounting bracket and 10-foot cable with a 3.5 mm plug. Available online for $49.90.
Making the most of your CB means having the microphone easily accessible. The CB microphone keeper from Hammerhead ensures your mic will be there for you when you need it. This 42-inch-long retracting tether suspends your mic from the headliner so you can grab your mic when you need it and then let it go when you're done, and it retracts on its own. Comes with mounting hardware. Available online for $24.99.
This noise filter is a 20 amp inline filter that will remove noise on your CB from alternators, engine, wiper motors, and your truck's other electronics. The CBNF3AXX power noise filter includes the three-pin power plug most new CB radios use. Available online for $28.23.
So, with just a little study, it's relatively easy to find a CB radio setup that meets your needs and your budget requirements.