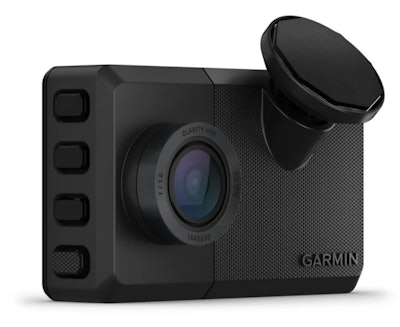 Garmin this week announced the all-new Garmin Dash Cam Live, an always-connected LTE dash cam that offers drivers access to a live exterior view of their vehicle.
With the purchase of an LTE subscription, drivers can utilize the Garmin Drive app to access an on-demand view of everything within sight of the Dash Cam Live in their vehicle. Drivers will also enjoy greater peace of mind through receiving theft alerts and other incident alerts when parked and away from the vehicle.
The camera records high-definition 1440p video with a 140-degree field of view, featuring Garmin Clarity HDR optics for crisp detail day or night, providing a clear witness to any potential incident.
"We are thrilled to offer our first LTE-connected dash cam, so drivers can have access to their vehicle camera without the limitation of a WiFi connection," said Dan Bartel, Garmin vice president of global consumer sales. "Much like the popular doorbell security camera systems that give you a view around your front door, Garmin Dash Cam Live can serve as your eyewitness 24/7 for ultimate peace of mind and situational awareness. You can feel secure whether you're walking away from your truck at the stadium or leaving your convertible at the beach."
With Dash Cam Live, saved video clips are automatically stored for 24 hours in the secure, online Vault and can be accessed using the Garmin Drive smartphone app. The camera is always on, meaning it automatically records and saves video of incidents, tagging time, date and location of saved video thanks to built-in GPS.
When users are ready to access or share recorded video, the LTE connectivity also makes Dash Cam Live superior to standard dash cams, because users are not dependent on WiFi connectivity to share a video clip, the company said.
The new Dash Cam Live also gives drivers the ability to control the camera with their voice. Through spoken commands, drivers can save video, stop/start recording, take still pictures and more, all while keeping their hands on the wheel.
In-cab alerts include forward collision, lane departure and speed camera notifications to help encourage safer driving and increase situational awareness.
With a rugged design, Dash Cam Live is built to withstand harsh vehicle environments, including direct sunlight and hot car interior temperatures. It's also ready to use right out of the box, featuring an included microSD memory card, so drivers can mount their camera and hit the road.
For drivers to enjoy all the connected features of this LTE dash cam, they must purchase a monthly Vault subscription plan in the Garmin Drive app. These plans, which start at $9.99/month, enable 24/7 connected features, including live view, location tracking, theft alerts and parking guard notifications, as well as the ability to extend the storage duration of video clips for up to 30 days.
Available now, the Garmin Dash Cam Live has a suggested retail price of $399.99.