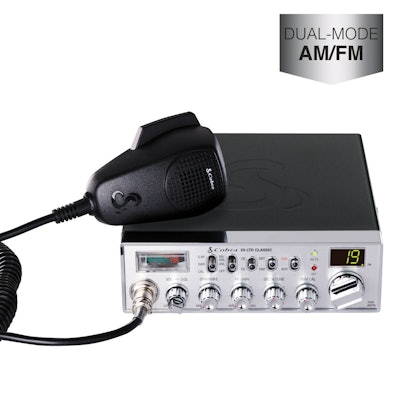 Cobra Electronics has unveiled its new line of AM/FM CB radios after spearheading a four-year petition with the Federal Communications Commission (FCC) to enable FM mode communication on CBs within the United States.
Considered the biggest change to the industry since CB radios were expanded from 23 channels to 40 channels in 1977, the new dual-mode AM/FM capabilities are now featured on Cobra's best-selling CB radio models, including the 29 LTD Classic, 29 LTD Chrome, and 19 MINI AM/FM, now available for purchase. The 29 LTD NW will be available later this spring, the company noted.
Cobra started the journey to allow FM mode on CBs back in 2017 when the brand petitioned the FCC for a rule change to Part 95 to allow FM mode to be legal for use in CB radio products in the U.S. During the petitioning process, Cobra turned to input from its customers, sources from multiple online CB radio forums, off-road vehicle clubs and distributors for support behind the change. The result was 100% acceptance from the FCC to allow FM on the CB band in 2021.
"Our team has been on the forefront of working with the FCC since 2017 to make AM/FM CB radios possible," said Gail Babitt, CEO of Cedar Electronics, parent company of Cobra. "The implications this will have on users like professional truck drivers, fleet managers and local delivery services will be amazing -- making communication clearer and more productive than ever while on the road."
According to Cobra, CB radios previously only operated with 40 channels on limited modes: AM and SSB, consisting of Upper Sideband (USB) and Lower Sideband (LSB). FM mode will lock onto the strongest signal and is less susceptible to the background noise that that can come through on AM.
[Related: Biggest change for CBs in four decades as FM mode gets approved by FCC]
How to boost CB output
The CB Radio shops of yesteryear "are somewhat of a dying breed," and today's trucks just aren't built for them, but sometimes there's no substitute for the tried and true technology. Here's how to boost your CB radio output to hear and be heard.