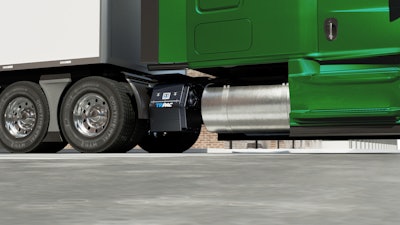 Thermo King introduced this week the third-generation diesel TriPac Auxiliary Power Unit (APU).
Building on the TriPac Evolution, the newest model provides the same comfort and performance customers expect, Thermo King said, but with added enhancements to reduce emissions, monitor unit performance and increase profitability.
The new TriPac APU is available in two different models. One is a 49-state Environmental Protection Agency (EPA) Tier 4 compliant unit for aftermarket installations. The second model includes a new aftertreatment device (ATD) that is 50-state compliant with California Air Resource Board (CARB) and meets EPA Tier 4 compliance for new original equipment manufacturer or aftermarket installations.  
According to Thermo King, the TriPac consumes approximately 75% less fuel per hour than idling, which equates to 2,500 gallons each year, or 10,000 gallons over the typical length of tractor ownership. In addition, it reduces the wear and tear on the larger tractor engine and improves resale value.
"The progression of our TriPac APU solves many challenges that fleets face today because it helps maximize comfort for drivers while also increasing the fleet's return on investment and addresses emission regulations and connectivity," said Charlene Vance, APU portfolio leader, Thermo King Americas. "In fact, with increased fuel costs and a focus on reduced emissions, APUs are being utilized in more than just Class 8 sleeper cabs and gaining popularity in adjacent markets such as large service vehicles and on heavy construction equipment such as cranes."  
The Thermo King third-generation TriPac APU is also the first in the refrigerated transportation industry to include telematics capabilities for an APU. Thermo King's TracKing telematics is now an available option on both third-generation models. Adding telematics provides data that offers insights into the unit's run hours, cabin temperatures, and fuel tax reporting. Real-time software updates, alarms and maintenance reminders help ensure the APU runs smoothly.
The new TriPac APU also features an updated controller and in-cab digital user interface. Customers can order a third-generation TriPac APU from any certified Thermo King dealer.