Shell Rotella's new T6 10W-30 Full Synthetic Heavy-Duty Engine Oil with Triple Protection Plus is now available for purchase at O'Reilly Auto Parts locations and Amazon.
The full synthetic oil delivers better wear protection compared to conventional and synthetic blends, Shell said, and improved fuel economy in the fastest growing viscosity grade for diesel-powered vehicles.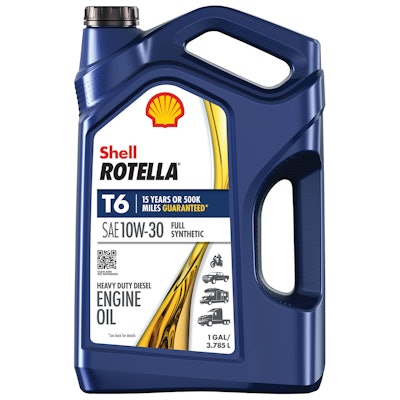 "Shell Rotella T6 10W-30 full synthetic is suitable for most modern low-emission heavy-duty engines and older hard working diesel engines," said Shell Rotella , North American Brand Manager Julie Wright. "This includes engines in Class 8 trucks, pick-up trucks and vehicles used for construction, agriculture and leisure activities."
Rotella said its Triple Protection Plus technology delivers protection against wear, deposits and oil breakdown, plus better fuel economy performance, helping to protect equipment, prolong engine life and maintain viscosity control under high temperatures. 
The new oil also delivers enhanced fuel economy capability of up to 2% (compared to conventional 15W-40 heavy duty diesel engine oil), Shell said, without compromising engine protection or durability. Increased protection against oxidation maintains fuel economy throughout the oil drain interval.
[Related: Oil industry's new PC-12 category to help with emissions, efficiency]
According to the company, the key benefits of the low-viscosity, full-synthetic oil include:
Lower oil consumption to help reduce maintenance costs
Increased protection against oxidation for increased fuel economy
Corrosion control to help protect key engine parts
Low Ash formulation for emissions system compatibility
Extended drain capability providing for more uptime and reduced maintained costs
Suitable for use with biodiesel fuel
[Related: Stay ahead of the inspectors with maintenance topics in Overdrive]