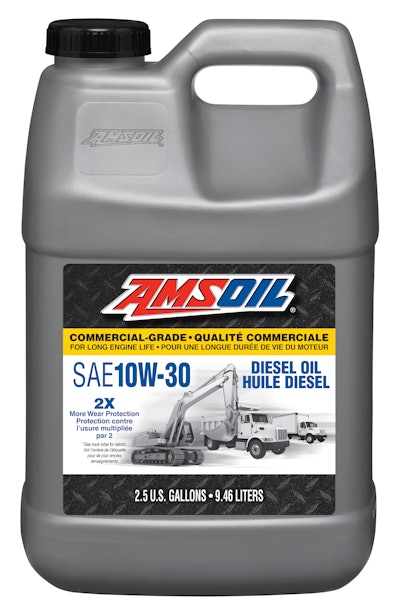 Amsoil has added a 10W-30 diesel oil to its commercial-grade family of products. The new Amsoil 10W-30 Commercial-Grade Diesel Oil is designed for those seeking an upgrade over conventional and other synthetic-blend oils in heavy-duty equipment and vehicles, the company said.
It is a synthetic-blend product with greater than 50% synthetic content to help keep trucks and equipment operating at peak performance.  
The company said the oil provides added wear protection to help reduce maintenance costs and promote equipment longevity. It features a low rate of volatility that helps reduce oil consumption and contributes to fewer combustion-chamber deposits. Amsoil added that its 10W-30 Commercial-Grade Diesel Oil flows dependably in cold temperatures while maintaining power and fuel efficiency for reliable startup and engine protection. 
 "There is a growing demand for 10W-30 diesel oils in the commercial realm," said Brett Granmo, Amsoil Market Manager -- Heavy-Duty. "Our commercial-grade line provides a great solution for commercial operations looking for upgraded protection for their equipment without increasing costs."
The oil also meets the latest API CK-4 diesel-oil specification and is compatible with other conventional and synthetic oils, the company added.