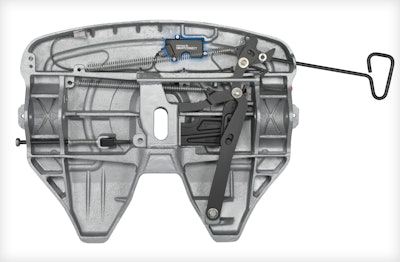 Fontaine Fifth Wheel company in October unveiled its new SmartConnect fifth wheel.
"Think of it as a fifth wheel with a brain," said Juan Hernandez, Fontaine VP of Sales and Marketing. "It utilizes advanced sensors to monitor the fifth wheel lock position every time you couple or de-couple from a trailer. By collecting and processing this data, it can accurately anticipate maintenance needs before problems surface."
By addressing issues the fifth wheel detects, the company said owners will prevent minor problems from escalating into costly repairs, as well as extending the fifth wheel's lifespan.
The SmartConnect system features an indicator light that notifies the driver of the fifth wheel's locking status. It also has LED flash codes to "provide drivers with advance notice that fifth wheel service is required at the next maintenance interval," said Shane Wolfe, Fontaine director of engineering.
Hardwire connections not only simplify the installation of an optional in-cab indicator light, but they also provide owners and fleets the flexibility to expand SmartConnect functionality as more features become available.
The system is CAN bus capable right out of the box, using the high-level SAE J1939 communications protocol. When integrated with the Truck OEM's CAN and telematics, SmartConnect will seamlessly transmit lock status, hours of use, number of couples and maintenance alerts to fleet managers.
"We're genuinely excited about this product," said Paige Petroni, company president. "SmartConnect is the world's first smart fifth wheel, and I'm incredibly proud of our engineering and management teams for their remarkable accomplishments. This innovation can significantly assist fleets in lowering maintenance costs while elevating operational efficiency."