Visit www.overdrive.hotims.com and enter the reader service number.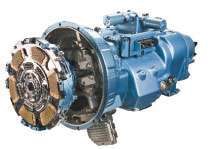 Vocational transmissions
Three new automated transmissions are made for dump trucks, concrete mixers and other vocational applications. Each transmission features new automated clutch technology and shift selection software. The Vocational UltraShift PLUS platforms have built-in and customizable application-specific performance features, including the UltraShift PLUS Vocational Construction Series, the UltraShift PLUS Vocational Multipurpose Series and the UltraShift PLUS Vocational Extreme Performance. Production is expected to begin this year.
EATON, www.eaton.com, (800) 826-4357, ENTER 150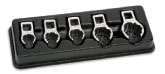 Flarenut crowfoot wrench set
The five-piece 3/8-in. flank drive flare nut crowfoot wrench set (205ANM) includes sizes 12, 13, 14, 17 and 19 millimeters and features thin wall design for better access around obstacles, 12-point flare configuration and flank drive wrenching system. It can be used on power steering and other lines on domestic and import vehicles, expansion valves and A/C lines, hydraulic lines and industrial equipment and fuel filter lines.
SNAP-ON, www.snapon.com,
(877) 762-7662, ENTER 151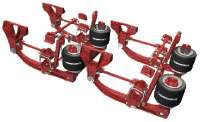 Rear air suspension system
The Primaax Ex heavy-duty vocational rear air suspension is now available in 52,000 lb. tandem capacity on C500, T800 and W900 models at Kenworth Truck dealers. Earlier versions in 46,000 lb. tandem and 69,000 lb. tridem configurations are also available. The suspension system features a new frame hanger and torque rod configuration, as well as structural beams that integrate the cross beam attachment points.
HENDRICKSON, www.hendrickson-intl.com, (630) 910-2800, ENTER 152

Trucking-specific GPS
The 7700 PRO trucking-specific GPS navigation and routing tool features a 16-by-9-in. wide touch screen. Cobra's partnership with ProMiles Software Development Corp. and TruckDown Info International Inc. resulted in 33,000 truck-specific points of interest such as routable travel center locations, fueling stations, restaurants, heavy duty towing, truck and trailer repair shops, truck-friendly hotels, weigh scales, plus more than 12 million general locations. The 7700 PRO uses advanced routing information based on the vehicle's height, width and weight and provides complete coverage data from the STAA National Highway Network and Access Roads; National Bridge Inventory List and National HazMat Route Registry.

Spray-on coating
Extreme lining, a two-component, rapid-curing lining system that is offered in both 2:1 and 1:1 formulations, can be applied to fuel tanks, fenders, deck plates and frames. The lining bonds to metals, woods, concrete and fiberglass. The lining, originally produced for industrial applications, offers protection in all weather.
RHINO LININGS, www.rhinolinings.com,
(800) 747-6966, ENTER 154
Grille guard
The heavy-duty moose bar is made from heavy wall aluminum T-6 alloy tubing and structural channel. It bolts to the frame in front of the existing bumper, giving it a solid mounting system. Two pins pull out, allowing the Moose Bar to hinge all the way forward to reach the ground.
HIGHWAY PRODUCTS, www.800toolbox.com,
(800) 866-5269, ENTER 155

iPhone app for truckers
Trucker 1, a free mobile application for the iPhone, allows owner-operators to transmit route and location details to e-mail and Facebook accounts. It is available at the Apple App store. Use of the application includes the ability to manage an account with 1st Guard Truck Insurer.
1st GUARD, www.1stguard.com, (941) 485-6210, ENTER 156

Snap-on mag wheel cover
Lacks Wheel Trim Systems has partnered with Chrome Shop Mafia to create TRAKTRchrome, a snap-on mag wheel cover that creates the appearance of chrome-plated aluminum mag wheels. TRAKTRchrome is made of a high-impact composite material that resists dents and dings and does not require buffing. It can be cleaned with soap and water. The product is targeted for sale in early 2010.
LACKS, www.lackswheel.com, (616) 554-7844, ENTER 157
Diesel Recovery emergency fuel treatment
Amsoil Diesel Recovery is a fuel additive that dissolves the wax crystals that form when diesel fuel passes its cloud point, the company says. Diesel Recovery, now available in larger container sizes, liquefies gelled fuel and thaws frozen fuel filters.
AMSOIL, www.amsoil.com, (800) 777-8491, ENTER 158

Shock absorbers
New 25/16-in. big bore mono tube shock absorbers are designed for Class 8 trucks and have a 4.2-square-in. piston area. The absorbers have spherical rod bearing mounting, two urethane shaft oil seals and a salt-spray chrome shaft. The absorbers can be factory rebuilt and are designed to go from 350,000 to 400,000 miles between rebuilds.
ROADKING, www.roadkingshocks.com, (619) 766-9207, ENTER 159

Compact brake controls
Two new compact brake controls are designed for stopping trailers with electric brake systems. The Phantom, a time-based unit engineered with Valley's F.E.T. brake control technology, uses components that emit less heat and allow for the development of a smaller brake control. The compact unit is 3 inches wide and 1 inch high. The brake control is designed for trailers with two- and four-brake systems and features a dual LED display that indicates trailer continuity, power connection, output power level, gain setting and ramp time setting. The Blackbird brake control digitally displays trailer settings and diagnostic alerts. The unit handles two-, four-, six- and eight-brake systems.
VALLEY, www.valley.us.com, (800) 344-3112, ENTER 160
In-cab scanning program
A new mobile in-cab scanning program is available for drivers and fleets on the PeopleNet BLU platform through Internet-based provider PeopleNet and Affiliated Computer Services Inc. Users can scan and send documents from terminals, truck stops and cabs through a number of software packages.
ACS EXPEDITED SOLUTIONS, www.acsexpeditedsolutions.com, (501) 352-1255, ENTER 161 n