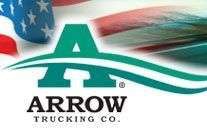 While lawsuits against Arrow Trucking Co. mount, the Federal Motor Carrier Safety Administration issued an emergency order for the carrier to get its trucks and cargo to safe locations.
On Jan. 1, the FMCSA announced it issued an order that company officers and executives ensure the safe transfer of its vehicles and cargo to secure areas after the agency contacted the company's vice president of field operations Dec.24 .The Arrow executive, who was not named, said few trucks, if any, were carrying hazardous waste cargo.
If Arrow fails to comply, it is subject to equitable relief and civil penalties.
The order also states on Dec. 22, Arrow filed for bankruptcy, but as of Jan. 3, federal records did not indicate this.
Doug Pielsticker, Arrow chief executive officer, issued a Jan. 1 statement to the Tulsa World newspaper that he had been separated from the 61-year-old company since Dec. 19. He did not elaborate, but added that drivers and employees "do not deserve the hardship they are enduring."
On Dec. 30, People's Bank sued in Tulsa County Court for $810,056, saying Arrow owes for defaulting on a promissory note. In a separate suit against Pielsticker filed the same day, the bank alleges Pielsticker owes $116,091 on a promissory note.
Also that day, Around the Clock Freightliners sued for $69,408 under fraud and breach of contract.
On Dec. 29, reorganized debtors Shapes/Arches LLC filed for a judgment for $41,314 in U.S. Bankruptcy Court for the District of New Jersey.
On Dec. 28, a class action complaint was filed in U.S. District Court for the Northern District of Oklahoma by at least 30 former employees, after Arrow closed without warning Dec. 21. They seek compensation under the Worker Adjustment and Retraining Notification Act, which requires employers of companies with more than 100 employees to provide 60 days' notice of a shutdown. Violators can be sued for two months pay per employee.
The complaint also alleges the company failed to fund fuel cards and bounced employee paychecks in December. Plaintiffs also charge Arrow failed to forward premiums to insurance carriers, even though it deducted them from paychecks, and did not reimburse out-of-pocket expenses.