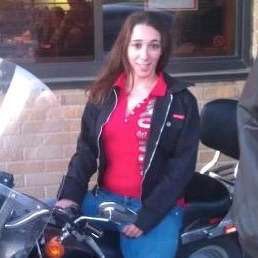 I have been trucking since I was 23 years old. Before that I was a trucker in the military and was deployed to Iraq from 08/06-06/07 where I drove the lead gun truck in convoys from Tal-afar to Mosul and a few smaller towns. I have seen many IEDs and even been shot at. Which left me a disabled veteran because of PTSD. Coincidentally my birthday is 9/11 and I was at the towers just two weeks before they came down.
I currently own and operate a semi with my boyfriend, leased to Mercer Transportation. My life in trucking started young as my dad and several family members trucked back in the day. I love my country and have seen all except one state from the wheel.
Why me: I would love to be part of this program because I want to stand proud and strong and free. This is a great opportunity to show how I beat the odds in Iraq and represent women truckers and women vets across the country, even if only a wall in some office. Still, maybe somebody will look up and think about the daughters, sons, mothers and fathers lost in the desert and out here on the road? Despite all that, I keep on trucking!