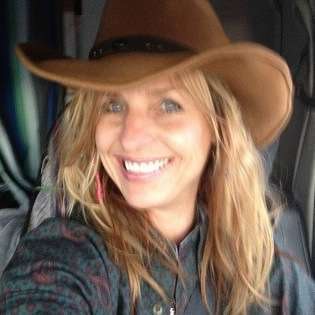 I am a 48 year young woman, who realized several years ago, I have more gypsy in my blood than anything else… who decided to change my life from working out of my home based stationary office, to my home based rolling office, aka, my chick fort… Out here, they call me Daisy Mae
I am submitting myself for Overdrive's Most Beautiful Contest for four reasons….
First, I truly am a good person, with a big heart, helping others whenever possible. It makes me feel happy inside.
Second, because I choose to enjoy life to its fullest! I love adventure, laughing, playing, my motorcycle, and mostly singing. My kids tell me I'm not allowed to sing in public, so I drive alone, (With the exception of my trusty, 4 legged copilot, Marlie Mae)….and I sing….loud…and lousy…but oh man!! I have fun!
Third, I have to be honest here….. A make-up session and photo op in front of a really sexy pride and polish truck is a very exciting thought for me!
And lastly, but most important…. because even though I've only been out here for about 5 1/2 years…. I truly understand and value the importance of each and every person I have met along my journey.
I know working hard is essential to surviving out here, we are all aware of this…., but not so many are aware….that "as important", or perhaps even "more important", then hard work…. is the eclectic network of acquaintances and friends built along the way. . I'm talking about the mechanics, bums, colleagues, agents, hitch hikers… we cross paths with every day … the list is endless.
I guess my thought process is this; Hard work ensures money ; but my acquaintances, friends and family have ensured my survival. It's because of who I am, and who they are…..that I truly feel beautiful.