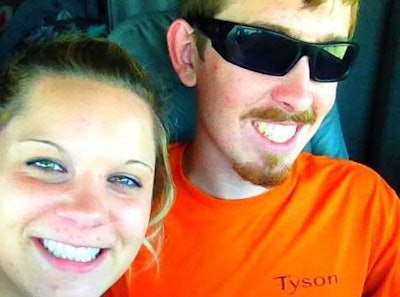 Tyson is one of the hardest working men of our generation. He has been in trucks since he was born. Car seat strapped in and he was ready to go. He started grabbing gears by age 10. Did construction driving belly dump during the summers through high school. Got his CDL at age 18 and owned his own truck by 19: a 1976 Peterbilt 359 extended hood. I met Tyson when he was 19. He left his family in Pendleton, Ore., to go haul logs down on the Oregon Coast in Tillamook. I had met him through some friends at a birthday party. I had no idea when I started dating him what I had gotten myself into at age 17. I knew he worked a lot but didn't know what it takes to own your own truck and work all day.
Tyson would get up at 1 a.m. and head to work, get off around 7 p.m., shower and head to my house where he would help with with some homework and relax. Then he would go home about 11 and do it all again the next day. My parents just decided he could move in with us. Tyson had known my dad previous to meeting me because he is the log yard boss at Stimson Tillamook. 
As a few months went by, Tyson started involving me in business decisions. (I think he really liked me!) He would pick me up from school and I would ride on his last load of the day. He even taught me to drive. He taught me so much about finances, old-school Peterbilt 359s, log gear, taxes and so much more. 
He decided to buy another truck. He got a 1995 Kenworth T800. That's when the real lessons came into play. I started driving more and more and we were the talk of the logging industry. He was on the front page of the Log Trucker magazine in September 2011.
After a year went by, in September 2012, we as a couple decided to expand the company and buy another truck. We found the most amazing one out there. An '86 peterbilt 359 extended hood. Original paint and some bumps and bruises. But I didn't care. It was a perfect fixer upper. At first he was a little bummed about the condition but after all the attention he got, he loved the truck. She was the mistress in this relationship!
Tyson worked every day to make sure we had enough money for food on the table, an amazing house and to not have any late bills. Sadly, times got tough. We met a guy who needed a truck more than we did so we sold the T800 to him leaving us with the Mistress. (Smurfett was her actual name) 
Things just kept breaking faster than we could keep up with. So an opportunity came up where Tyson could go over the road cattle hauling. He had always wanted to do that so I said, "Let's make it happen!" We parked the Smurfett and hit the road.
We have been out here since May 2013. He works his butt off. Doesn't sleep much, works ridiculous hours, smells like crap all the time, literally! He doesn't eat very healthy and is on the phone 24/7. But he doesn't complain at all. I couldn't ask for a better person to be on the road with. He's tough. He has a lot of patience with teaching me things and out here on the road is where I've gotten most of my driving experience. Most of the cattle haulers are impressed. I'm 20, and he's 22 now. We live in an orange Peterbilt 379, pulling a bull rack. Some days I load and unload his trailer. I drive when he's tired and push him to keep on truckin' when we are almost there. I clean for him, check his livestock and get him food so that he can have that 10 minutes of rest. He oftentimes tells me to stay inside cause it's hot out, or he doesn't want me to get dirty, because he would rather go through the troubles. 
I love my trucker for how optimistic he is. I love him for how hard he has worked the past two and a half years I've been with him. I love that he doesn't give up. I love that no matter what the circumstances are out here, he hugs me every day and tells me it's worth it. I love my trucker for keeping trucking alive, for keeping his head up when life is looking down, for planning our future together, for having hope that within a few months we will be back in his own truck doing what we love. It just takes time. I love my trucker for the life he leads at 22 years old. He will be an amazing husband  to me, and father to my children some day. And for what we have, I will always stand by his side. I love my trucker for being a loyal man of his word, working for what he wants and making sure that even when times are tough, the time we spend together in this truck makes it all worth it.