This story was originally posted on OverdriveRetro.com in September 2011.
My longtime buddy and German shorthaired pointer Tasha rode along with me for years. I adopted her from our county animal shelter when she was a year old. I signed all the papers and took her home to prepare her for her new life as a truckin' dog.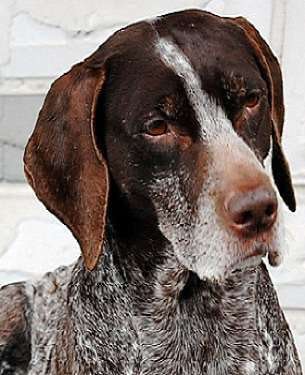 After a few trips in the 1979 double-bunk Freightliner cabover I owned then, Tasha and I adjusted to one another and became very good pals. We learned how to deal with bathroom trips and sleeping arrangements – important details for small spaces.
Contrary to my original plan, Tasha and I ended up sharing the big double bunk. In fact, it was her favorite seat. She lay there watching the world pass by the windshield, just like I did. The only difference was, when she got tired, she just closed her eyes and went to sleep.
Once, I had a brainstorm to make a more comfortable bed. I put an Army-Navy surplus air mattress under the factory issue version. I removed the stock mattress, blew up the air mattress, brought it inside the sleeper and plopped the factory mattress on top of it. Wow, it felt great!
The next day, Tasha and I took off from Los Angeles and headed to Indiana. She took her go-to place in the bunk and looked like she was enjoying that new air mattress.
Suddenly, headed east on I-40 past Williams, Ariz., I heard a muffled boom sound. I looked in both mirrors to see if a trailer tire had blown but didn't find anything wrong. I drove on toward Flagstaff and, in a while, heard another muffled boom, and then another – and another.
To see what was up, I slowed to a stop at a rest area outside Flagstaff. Then I heard Tasha whimpering from the bunk. I turned to look at her and couldn't believe my eyes.
That poor dog was lying on the mattress, which was now about 2 feet higher as she approached the ceiling. She looked down at me in bewilderment, as if to say, "Help me"!
I busted out laughing. I realized I had made a mistake of blowing that air mattress up when I put it in the bunk. As we drove across the desert, the heat from the engine coming up from under the bunk caused the air in the mattress to expand. When it expanded to a certain point, it started popping the baffles in between the mattress sections, hence, those muffled booms. Once the baffles were blown, the mattress expanded even more and Tasha floated toward the ceiling.
We trashed that mattress and went back to our old sleeping habits. Tasha and I rode together for a long time until she became ill with cancer and needed to be put to sleep.
After careful thought, I knew what had to be done and knew it wouldn't be fair to let her suffer. We made a last trip to the vet, where I held Tasha in my lap while the vet gave her the shots that eased her pain and put her to rest.
God bless you, Tasha, my truckin' buddy. I'll always remember the good times and the miles we traveled together. Rest In Peace.
Bruce "Bandit" Wieser resides in Ayden, N.C.
Nominate your pet for Overdrive's Most Loved Pet contest, and click here to see some tips from a veterinarian about how to make your pet's ride comfortable.