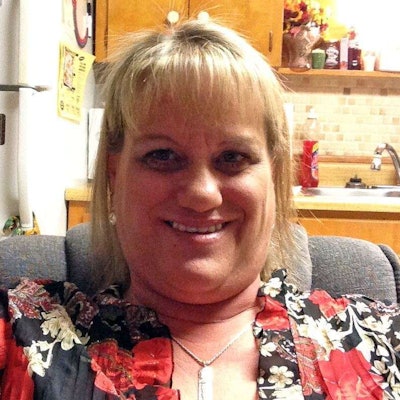 PATTY ADAMS
Hometown: Spanaway, Wash.
Years trucking: 30
Hauls: Containers in and out of Seattle-Tacoma ports
Company: Castan Inc.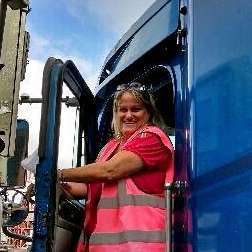 #1 Why did you get into Trucking? When I was a little girl I was infatuated with the Big Rig's, I used to tell my dad when I grow up I am going to drive one .. Later in life I got divorced with 2 small Daughter's and at that point I decided I needed a career to support them and signed up for driving school.. Went to driving school in Phoenix, Arizona that was in 1984. I wasn't able to get a job here in Washington State as I had no experience so I sent out Resume's and landed my first job in Bakersfield, California so I moved and left my 2 girls with my parent's till I could get my own place and settled in. At that point they brought me the girls. I am ever so grateful to my parent's for the help and support they gave me ..
#2) If you could take 1 person on the road with you who would it be and why? I have to go back about 25-30yrs ago when I ran Tanker's from Bakersfield to L.A. Harbor. I really wanted to show my dad what trucking was all about so he rode with me for the trip and what a great time we had and he loved it..Dad died 5yrs ago so this memory will always be special and in my heart..
#3) What would you tell a young female who is considering a career in the Trucking Industry? I would let her know that trucking for Women now days is so much easier than it was 30 yrs. ago. Women back when I started were not accepted and I got harassed all the time. Luckily I found a company to give me a chance. I had to prove that I had what it took to be a Lady Trucker and how to stand up for myself. I feel that I have done that over the year's with great pride. It takes a lot of hard work, dedication and passion as it's not an easy profession. Just know you will always have to prove yourself to everyone and that's ok as it will make you a better driver. Only rely on yourself even when it's hard and only asking for help when it is impossible for you to do whatever it is you are trying to do.
#4) What is the definition of a Beautiful Trucker? I believe Beauty comes from within yourself and not the outside. It would be someone that care's about other's and take's Pride in them selves and what they are doing.
#5) Why should I be chosen ad the winner of Overdrive's Most Beautiful? I feel over the past 30yrs, I have represented Women Driver's with the up most respect. I would be honored to be the winner of this fabulous contest to represent all the Woman driver's thru out the United States. I have worked really hard over the yrs to get where I am and the respect I have earned. I am so proud to be one of the Top Ten and Thank you for having this great contest to honor and showcase Women Drivers.