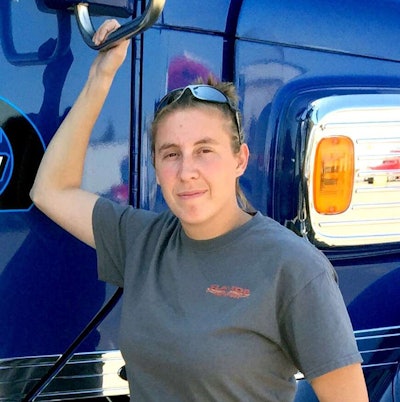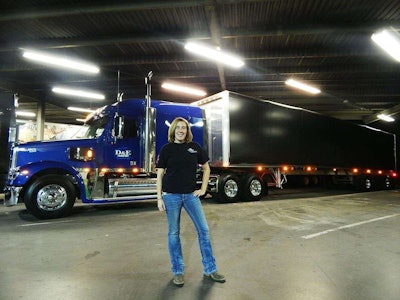 Shaina Frolik
Hometown: Rice Lake, Wisconsin
Occupation: company driver for D&E Transport
How long trucking: seven years
Hauls: anything that goes on a flatbed
"I grew up with my grandparents. They really made me who I am today. I got taught the old way of doing things: Be modest, and be who you are, not who society wants you to be. As long as you're happy with yourself, you are beautiful."
Trucking has been a natural fit for Frolik. "I was always the girl who played with Hot Wheels instead of Barbies, and I have always had an obsession with trucks." So now she is solo flatbedding, strapping her own loads and pulling things like food-grade beans, seeds for planting, oil fields equipment and some LTL freight.
___
Her nomination:
I'm 28 years old. I have been driving since 2008 and have loved every minute since then. I started out pulling reefers for Marten Transport and have now worked my way into flatbedding. As a solo flatbedding female I would love to get the word out about how any women with a good mind set can flatbed. Its not all about strength. You must be smart with how you secure loads. Not everyone can handle the climates we get put into. Im only 130lbs and I threw tarps for a year before coming over to pulling curtain trailers. My dream is to someday soon own my own truck and eventually own a small fleet.
I believe I am the "most beautiful trucker" because I love my job and I wouldn't trade it for anything. I come from a line of drivers in the family, my father Todd Frolik drove monster trucks for years and had to drive his own rig, and my grand father owns his own car hauling business out of WA. I think more women should be involved in the flatbedding industry and would really love to get the word out that its not all about strength in flatbedding. Im a very tiny girl and I can manage just as much if not more than some of the men out here.
(I have a short video on my Facebook page of myself securing and tying down a load in Texas, was an easy load but it was a blast to make)
Submitted by Shaina Frolik, company driver
Rice Lake, Wisconsin