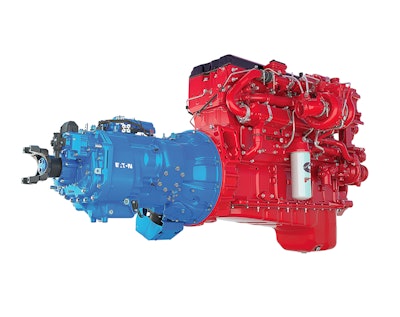 The ISX15 SmartAdvantage Powertrain is the only integrated powertrain in the industry to offer both small-step overdrive and direct drive options. Understanding the difference between the two technologies and how they match specific duty cycles will help you decide which option will provide the best combination of driveability and fuel efficiency for your truck.
Small-Step Overdrive
Since its introduction in 2013, the ISX15 SmartAdvantage Powertrain has been mated to an Eaton® 10-speed automated manual transmission with small-step overdrive technology. In its simplest terms, the "step" between 9th and 10th gear (overdrive) is just 26%, which allows the transmission to shift more seamlessly between the top two gears in response to changing terrain and speed operating conditions. If you typically haul across mountainous terrain, you should always spec the small-step overdrive transmission, regardless of load and number of stops. If you are pulling maximum GVW (80,000 lb) most of the time and travelling 100,000 miles or more per year, you also should opt for the small-step overdrive transmission, which can leverage direct drive when power on the wheels is needed.
Direct Drive
The direct drive option produces driver-pleasing performance and exceptional fuel economy for truckers running primarily across flat, rolling or hilly terrain. The 1:1 top gear drive ratio is also ideal for less-than-truckload (LTL) and regional-haul operations that carry a lighter average payload, make multiple stops during a single shift and average less than 100,000 miles per year. Three newly approved axle ratios (2.26, 2.28 and 2.39) increase the downspeeding capability, for better fuel economy.
Becoming The Efficiency Expert
The SmartAdvantage Powertrain's automated manual transmission makes it easy for you to drive as efficiently as the most experienced drivers on the road, thanks to error-free, guess-proof shifting. If you are currently driving a manual, chances are good that you will achieve better fuel economy and reduce driving strain with the SmartAdvantage Powertrain.
Spec'ing a SmartAdvantage Powertrain is easier than ever with the latest version of PowerSpec.
If you are currently running a truck with an EPA 2007 or 2010 engine, you can expect the fully integrated combination of Cummins ISX15 engine together with an Eaton Fuller Advantage® 10-speed automated transmission to deliver 10-14% better fuel economy than you currently get.
ADEPT™ is a suite of advanced electronic features for the ISX15 engine that interact with automated manual transmissions, dynamically adapting to operating conditions so you can run as efficiently as possible. ADEPT includes SmartTorque2 (ST2), the latest generation of torque management technology from Cummins, together with SmartCoast,™ a feature which senses when your truck is descending down a moderate grade and disengages the driveline, returning the engine to a 600 rpm idle speed and reducing drag. These are the first of many ADEPT features to come, significantly raising fuel efficiency and lowering operating costs.
To learn more, visit SmartAdvantagePowertrain.com.