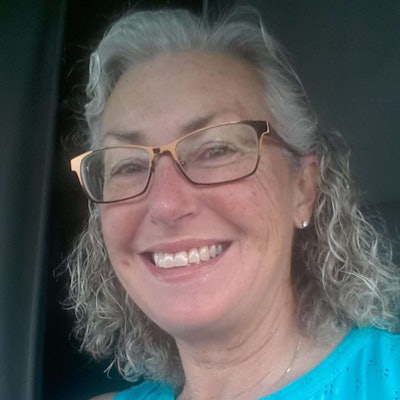 I have been driving for 37 years. Team until 1996, and single ever since. My goal is to give trucking a good image through my charitable events, patient driving every day, and giving truck rides to people who influence rules and regulations.
I got into trucking in January of 1980, I had married a driver and as all women at the tender age of 21, I missed him. He told me that if I got onto the truck, I would learn to drive and I am grateful for that challenge. It was tough, he was not the most patient of teachers and I did cry a lot.
We drove team for 15 years, with his temper getting him fired from several places. The last company, CFI, told me that I was a qualified driver and I did not have to leave. The previous four companies had considered me "his little helper." This created my loyalty to CFI, and I have been here ever since.
With the encouragement of CFI, I have gone on to represent them, and trucking, as an America's Road Team Captain (2013), Women in Trucking Image Team (2015), plus being the chosen driver for charities and speaking at high schools.
It is my opinion that all women are beautiful…Our physical beauty will fade, but it our strength, and impact on the next generation that will give us our legacy.
One of my favorite memories: I was delivering to a warehouse in South San Francisco, while traveling north on El Camino Real. I passed the bus stop in front of Sees Candies. I instantly flashed back to 1968, my grandmother and I always took that bus up into the City when she took me to work with her. I never dreamed as a little girl of 10 that I would travel to far and see so much of our beautiful country and I owe it all to trucking. Trucking has given me a bigger world, and I try to pass that message on to young women.