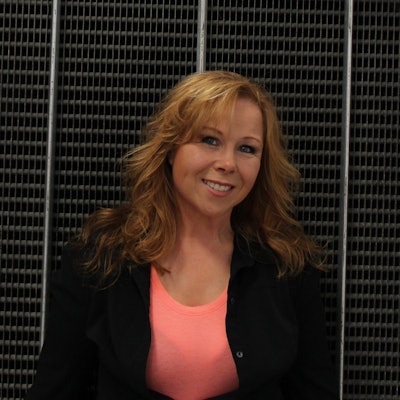 I would like to nominate Kate Whiting for Overdrive's Most Beautiful.
I met Kate in 2014 at a Truck Show in Wisconsin where she had a booth set up helping drivers with health and weight loss challenges.
I was so impressed that weekend by this energetic fun gal and her excitement for the trucks and the industry. Right from the start she was full questions wanting to learn about trucking and show trucks. I invited her to the next show and asked Kate if she wanted to drive my Kenworth W900L in the parade. And as they say, "The rest is history." Kate was hooked. She told me her goal was to get her CDL and drive a big rig. I chuckled a little bit, seriously, how was this petite little gal going to handle driving a truck and all that comes with it? Besides she was already a successful health coach, why would she even want to start trucking? So, when she asked my thoughts? I didn't encourage it.
Over the next several months, Kate made numerous trip out to my shop and joined us at a few more shows. Kate wanted to learn all she could about working on trucks from fixing and maintenance to detailing and showing. Then one day she surprised me with her Class A CDL. She desperately wanted to drive for me but I wasn't sure she was ready for what that entailed. Plus, she had no experience.
This fiery redhead was determined to get experience, so she went to work for a recycling company driving throughout the Midwest doing work many men wouldn't do; hand loading bins that weighted up to 400 lb. She quickly proved to me how serious she was, and after a year, I brought her on board as a company driver. I soon realized she is one of the most appreciative of people I know. Her bubbly personality, strong work ethic, and people skills are indescribable. Kate is a huge asset to my customer service focused business. But she's not just bumping docks. Kate is required to also hand unload our freight which is exclusively furniture.
So it didn't surprise me much when she purchase a "barn find" she spotted a few miles from her house. A 1973 A Model Kenworth with a 3408 Cat and 7×4 transmission. She is on cloud nine anytime she is behind the wheel. Kate continues to learn as she goes fixing up her beautiful old school truck. She even pulled her 73 last summer at a truck show in Minnesota, placing 10th out of 29 trucks!
She still loves being a health coach, helping drivers stay healthy and on the road. Her goals are to continue upping her game by showing the 73 KW and to become an OO, and from my observations, there is no doubt she will succeed.
Kate is more than a pretty face, she is a great advocate for the industry, and has a huge passion for trucks and their drivers.
Nominated by Jerry Linander