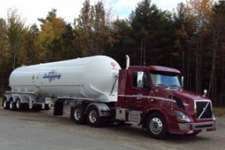 Iowa's and Wisconsin's drought and Michigan's Upper Peninsula fuel shortage have resulted in the states issuing emergency waivers for some truckers.
On July 26, Iowa Gov. Terry Branstadi issued a 60-day waiver lifting hours-of-service requirements for hay, straw and stover transporters. These loads will not need an overweight permit if less than 90,000 pounds gross weight and traveling on a non-interstate road.
Also, vehicles transporting these supplies can be over width without requiring an Iowa DOT permit, if less than 12 feet 5 inches wide. These trucks can travel on any road, including the state's interstates, if the gross weight does not exceed 80,000 pounds. Travel must occur 30 minutes before sunrise and 30 minutes after sunset and all flags, signs and lights usually required are still needed.
More information is available by calling 800-925-6469 or by visiting the Iowa DOT's website at www.iowadot.gov.
On July 24, Wisconsin Gov. Scott Walker began a waiver of the oversize/overweight fee for baled hay set during daylight hours along non-posted state and local roadways. The waiver, which ends June 30, 2013, carries certain stipulations.
More information is available by calling WisDOT's Oversize/Overweight Permits Unit at 608-266-7320 or by viewing the announcement here.
On July 23, Michigan Gov. Rick Synder began a suspension of HOS for fuel transporters through Aug. 7, unless he rescinds his emergency order before then.
Wisconsin state officials announced this week that the July 17 leak in the refined fuel products pipeline between Milwaukee and Green Bay had been repaired. Still, the leak resulted in interruptions in supply for service stations in the western and central sections of the Upper Peninsula.
The waiver applies to transporters of gasoline, diesel and jet fuel. Carriers or drivers currently subject to an out-of-service order are not eligible for the exemption.
More information is available by contacting the Michigan DOT at 517-373-2090. The proclamation can be read here.
"This energy emergency declaration is necessary to ensure that petroleum supplies will remain sufficient and to assure the health, safety and welfare of Michigan residents and visitors," Snyder said.
The Executive Order suspends state and federal regulations relating to hours-of-service for motor carriers and drivers transporting gasoline, diesel fuel and jet fuel to address transportation needs arising from the impact of this energy emergency.